The relatively new trend of extended planning and analytics (xP&A) is transforming financial planning by giving firms much greater insight into their operations. inlumi consulting director Susan Gittings, executive principal Omer Cander and chief executive Ashley Chapman discuss the increasingly important role that finance functions play in shaping organisational strategy.
Q There's a lot of talk about xP&A in the world of finance, but how exactly does it work?
SG I think of extended planning and analytics (xP&A) as the next evolution of integrated planning, a concept most companies are familiar with. It uses the latest generation of performance management technology to obtain deeper insights into a company's operations, supporting senior leadership and individual departments to improve decision-making.
Using xP&A, firms can break down silos and combine greater volumes of data across their business than previously possible. The data is linked, cleaned and made useful for reporting purposes using the latest advances in machine learning and big data analytics.
OC The ultimate goal is to help businesses achieve strategic objectives – faster growth, greater efficiency and effectiveness. Firms are often surprised by the richness of operational insights that can be achieved using xP&A and the trends uncovered. Never before have companies been offered such a clear, unified view of their operational and financial reporting.
AC xP&A is transforming the role of the CFO, whose remit extends beyond reporting, control and compliance. They're becoming intentionally vital to the creative and strategic direction of the business.
Q How far along are CFOs in embracing xP&A?
SG xP&A is absolutely a growing trend. They may not necessarily be using the term, but through conversations with CFOs across all industries we know they are looking at increasing efficiencies in their planning processes and improving access to data-driven insights. They want to plan effectively and efficiently to improve profitability and rapidly adapt to unexpected world events.
CEOs and CFOs need to make bold decisions to remain competitive; to do that, they need the facts and the data. We often hear comments along the lines of 'I need connected visibility of what is happening across the organisation' and 'I need to know how our decisions affect the bottom line'. These are the exact areas where xP&A helps.
AC Resilience, responsiveness, and predictive and actionable insights are goals made possible by modern finance technology platforms and a will to change how work is done. This is on the CFO agenda.
Q What are the barriers to adoption and how does inlumi help?
SG There is a misconception that implementing xP&A is a massive, 'big-bang' change. With a clear roadmap, a modular approach can be taken to deploy gradually and iteratively. There are two important ingredients for success: first, the vision and ability to integrate and connect data across the business with highly scalable technology. Second, executive sponsorship and leadership to drive change and adoption.
OC inlumi is not a technology provider per se, instead we help organisations identify the most effective solutions and support their implementation across the business. One of the challenges is encouraging senior leaders beyond the CFO's office to take ownership of data quality so it can be funnelled into a single, streamlined system to drive user buy-in. That means bridging departments as varied as sales, distribution, engineering and marketing. Here, our extensive experience delivering technology-enabled change programmes helps as we ensure collective C-Suite sponsorship and adoption within the business.
Q Is the cost to change a concern?
SG Traditionally, the business case for planning solution investment has been a challenge as it's difficult to quantify real returns. xP&A is different. It highlights operational inefficiencies and opportunities – think productivity blackspots or areas of waste – ultimately saving money and improving margins in the near to medium term. The business case is clear. What's harder is quantifying the longer-term profit gains that come from smarter decision-making and increased responsiveness. The more foresight you have on your operations, the easier it is to enhance profitability.
73% of finance functions have responded to the data boom by promoting greater use of corporate-approved performance data from a centralised, finance-governed source.
Gartner
Q How has xP&A helped your clients?
OC We are currently helping a global car safety manufacturer with its xP&A journey as it seeks greater insights on its operations and financial planning. As a B2B business, achieving efficiencies and stopping waste is vital to improving margins. The manufacturer needs to understand the profitability of its business at a very granular level, from the components and materials it uses through to the plants its operates from globally.
inlumi has helped the company gain that understanding so it can make smarter operational choices. As you can imagine, the moment you start asking questions about the location of plants or sourcing of raw materials, you begin to collaborate with departments beyond the CFO's office. Part of our job has been to help drive that cross-departmental collaboration and break down silos, so strategic decisions can be made based on the facts uncovered in the data.
Q What role do you expect xP&A to play in business in the coming decade?
SG There is an undeniable demand from executives to be able to make strategic decisions based on reliable, up-to-date enterprise data. This means that organisations are starting to reassess their legacy reporting solutions and are looking at next-generation platform technologies. I see the uptake of xP&A only gaining momentum, especially as organisations realise the possibilities and the power of the finance platform technology.
OC We're at the start of this journey but I expect more companies to adopt xP&A as time goes on. Ultimately, it's about improving return on investment by unlocking data at the heart of a business. That feeds back into the wider organisation, driving growth and improving resiliency.
AC Organisations will continue to connect and improve their planning processes – xP&A is the next stage of that journey. The goal is to be more agile, efficient and strategic in an increasingly competitive business landscape.
---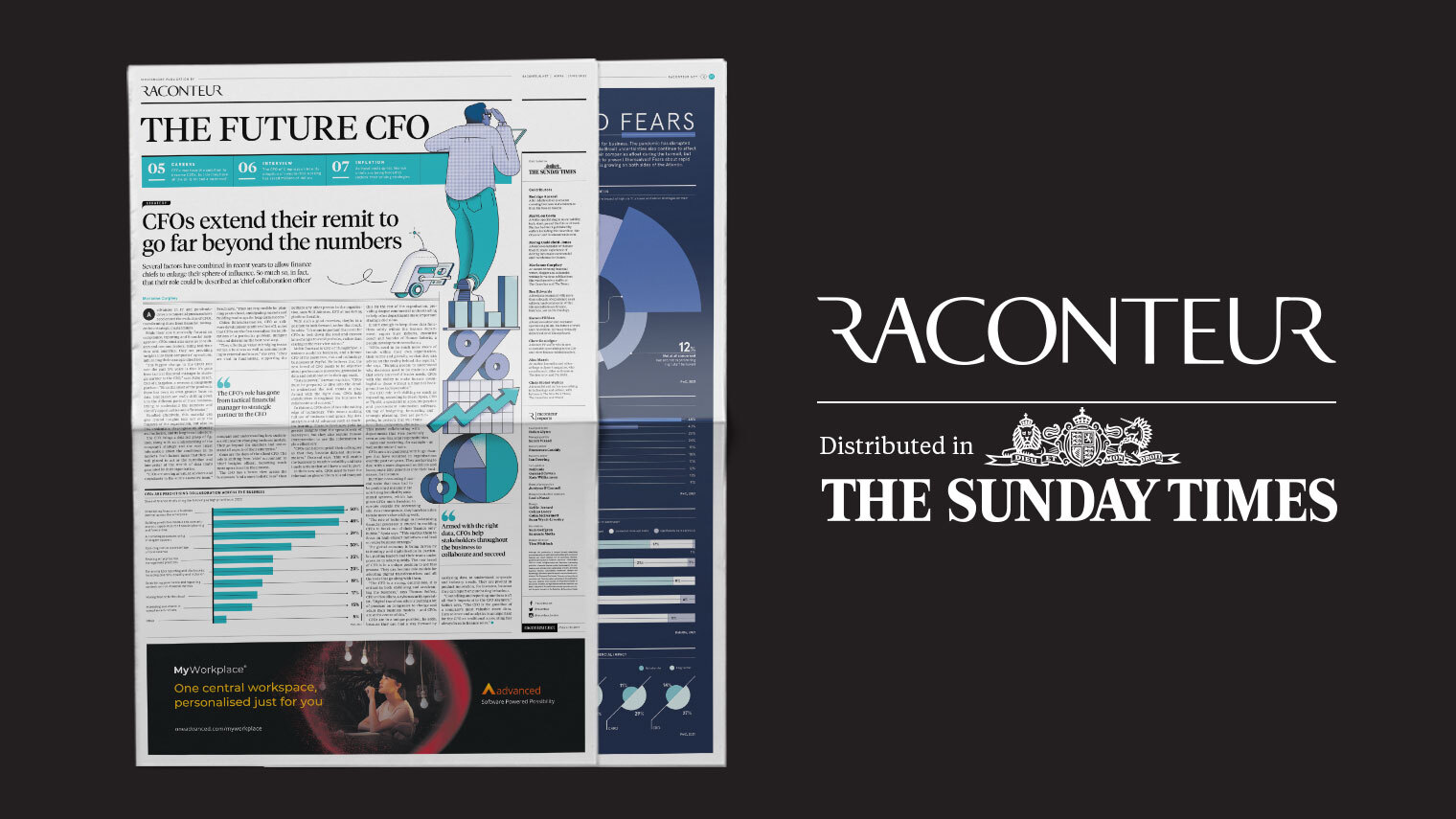 This article was published in The Future CFO 2022 by Raconteur in the Sunday Times.