During all my years designing and implementing integration solutions for EPM processes, one thing is clear to me: data integration is a vital part of the equation. After all, it is what brings together any EPM process such as Financial Consolidation and Planning & Budgeting.
As an integration solution architect, I believe that having someone that builds the bridge between all stakeholders is key for any EPM project. Indeed, one of our main responsibilities is to align source systems owners with finance teams.
The importance of solution architecture design
I must begin by saying that data integration should be considered equally alongside the other EPM processes. And that includes all phases of the project, such as Analysis, Design, Build, Test and Documentation. Integration solutions can range from simple to very complex depending on different factors such as the number of systems involved or complexity of the transformations. In any case, you need a design that meets all the requirements. That is the starting point for the road to success.
Any solution design should meet the following three criteria: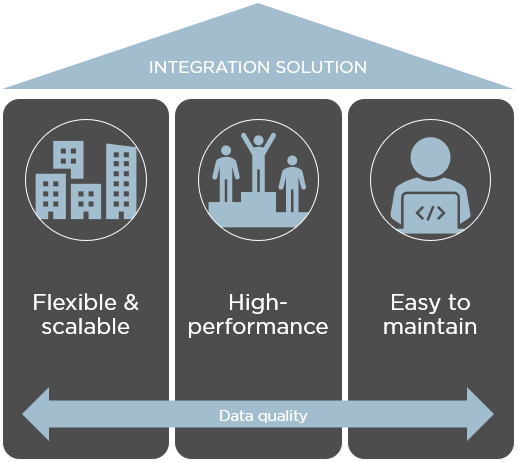 Flexible and Scalable
Companies change. They often acquire or merge with other companies, have structural changes or implement new source systems (ERP, HR, etc.). We should not design and build a static solution focusing only on the short-term. The solution should be ready for new requirements and make sure that they can fit without impacting the existing ones.
High-Performance
Most of the EPM processes are key in the operation of a company. A clear example is the financial consolidation carried out during the month-close. Financial controllers are assigned many other tasks in addition to this, so it is very important that the process of extracting, transforming, and loading data from multiple source systems does not turn into a bottleneck.
Easy to Maintain
We should never forget that we are not building an integration for ourselves but for others. A solution that is not easily maintainable can be considered incomplete regardless of the other two pillars. There must be always a balance between scalability, performance and maintenance.
In addition to the three pillars mentioned above, Data Quality is a core component of any integration solution. Poor-quality data can have significant business consequences for companies. Investing time in designing processes to ensure data quality will be very beneficial and will ensure that our EPM models get the right data.
Aligning teams
When I start on a project, one of the first things I like to do is to have both the functional consultants and the customer in a room with a white board. When you have multiple EPM processes and different people implementing them, it is good to get together with the customer, understand what data requirements they have and discuss with them how you can meet their needs. This session is probably the one where the most interesting discussions come up. Based on my experience, customers love the data integration sessions! I feel very happy when I hear them say "Now it all makes sense."
At the end of the session, the white board must show a high-level solution design where everyone can see how data integration will fit in their EPM processes. Of course, there can be some to-be-confirmed points, but the starting point must be clear, and everyone must be happy with it.
After this meeting, we will have more deep-dive meetings for specific parts of the high-level design. These meetings end with the detailed design which opens the door for implementation.
Don't Forget IT
While IT and Security teams would normally have been involved in any vendor selection processes, the move to cloud means that the detail of integrating with on-premise systems is generally kept high level. When working on the high-level design, it is nevertheless important that IT and Security teams are included to understand what options will be permitted and what the process is for getting IT changes applied. An example would be identifying whether an EPM cloud system can make a direct connection to a customer's on-premise database or whether data needs to be extracted and hosted on a file system.
Without a shadow of a doubt, data integration matters, and the design even more so. Contact us if you need help managing the steps that need to be followed for effective EPM integration.